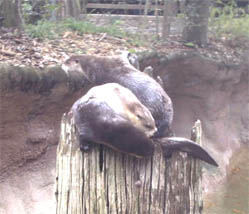 These three otters fought for top place on this piece of cypress tree.
New Orleans — The Founder and his current girlfriend visited Audubon Zoo Saturday despite chilly temperatures and cloudy skies. The trip kicked off the first day of a much needed vacation that will last at least through next weekend.
This week was scheduled as time off of work because the Founder's girlfriend returns to college on January 18 and he wanted to spend some time with her. He was hoping to have the last half of December off, but he was needed to finish a couple projects at work.
The Audubon Zoo was open from 09:30 to 17:00 but Leif and Rikki, the Founder's girlfriend, only arrived at around 13:30 due to delays in departing Baton Rouge.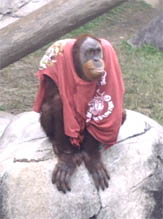 This playful orangutan (which means "forest man" in Bazaar Malay) delighted all with his whimsy and t-shirt.
Skies were clear at the time the couple started their trip but turned cloudy as they approached New Orleans. The cold front that recently passed through the state decided to bathe the capital city in warm sunshine while smiting the state's popular zoo with winds and a blanket of clouds, leaving many hapless children shivering without appropriate clothing.
Although spirits were somewhat dampened by the weather, many of the zoo's animals still found the energy to amuse the Founder, particularly the otters and orangutans, one of which sported a "Whoop! There It Is!" t-shirt.
As closing time approached, the couple raced through the zoo grounds in an attempt to gawk at every animal on display for their amusement. Though Audubon Zoo is advertising their new baby rhinoceros, WCSL insiders say that the rhino was nowhere to be seen, probably due to the inclimate weather conditions.
Nonetheless, Leif and Rikki managed to close out the visit with a quick walk through the reptile and tropical bird displays, both of which were inside heated buildings. As the doors were closed behind them, the macaw parrots reminded everyone that birds are really quite dumb.