French onion soup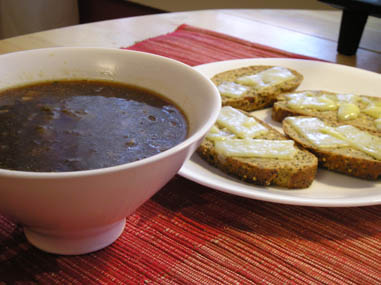 Added: 2009 Oct 27 (Tue)
Total cook time: 01 hour 30 minutes
1. In a large saucepan, sauté the sliced onions in olive oil on medium high heat until well browned but not burned, about 30-60 minutes. Add the sugar about 10 minutes into the process to help with the caramelization.
2. Add garlic and sauté for 1 minute.
3. Add the stock, wine, bay leaf, and thyme. Cover partially and simmer until the flavors are well blended, about 30 minutes.
4. Season to taste with salt and pepper.
5. Toast the bread with slices of cheese. Either drop in the soup or use for dipping. Your call.
Source: Simply Recipes