Limpa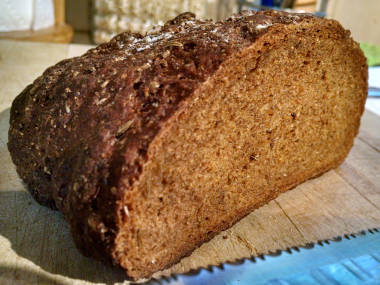 Added: 2011 Dec 24 (Sat)
Total cook time: 04 hours 45 minutes
1. In a large bowl, combine warm milk, yeast, salt, zest, molasses, and sugar.
2. Start adding flours and wheat bran and germ, but finish with the all-purpose since the amount listed is not exact. The dough should be annoyingly wet and sticky still. Add a little water if it seems too dry. Knead if it pleases you to.
3. Add melted butter and seeds and knead to combine.
4. Shape into a ball, place the dough back in the bowl, cover with plastic wrap, and let rise in a warm location for 2 hours.
5. Have a pizza peel or cutting board ready with parchment paper on it. Punch down the dough and knead a few times. Form the dough into a loaf shape. Place the dough on the parchment paper. Sprinkle some flour on top to prevent the plastic from sticking. Cover with plastic wrap (and perhaps a large bowl, too). Let rise for 90 minutes.
6. With 30 minutes left of the final rise, preheat the oven to 450°F.
7. You might like to slash a fanciful shape into the top of the loaf for expansion and spritz with some water. Place the loaf into the oven and lower the temperature to 350°F. Bake for 30 minutes.
8. Rotate the loaf and back for another 30 minutes or so.
9. Let the loaf cool on a wire rack for 1-2 hours before eating.

Notes:
- For the zest, use a medium-sized orange.
- I didn't have 1 c. of graham flour, so I essentially made my own by including the wheat bran and wheat germ. (Combine 2/3 c. all-purpose, 1/3 c. wheat bran, and 1 1/2 tsp. wheat germ.) If you have graham flour, great!

Correction (2019-01-14):
- I thought this bread was rugbrød and from Norway because it said as much on the original website I found the recipe on. I made changes to the recipe because the measurements were completely wrong, and you have what you see here. More research on this shows me this is actually limpa, a Swedish bread, and rugbrød is Danish.