I've been trying to be patient all winter. I've sowed seed here and there (milkweed, lanceleaf coreopsis, blue mistflower, tickseed, rattlesnake master, coralbean, and little bluestem). I've planted new things (witchhazel, swamp sunflower, buttonbush, American beautyberry, crossvine, red mulberry, arrowwood viburnum, Turk's cap, and Eastern redbud). I've moved some others (ironweed and groundsel). I've dug things up and put them into pots (redcedars and pines). And I've waited, because this entire time, nothing has grown. At least above ground. As they say, the activity has all been below ground. But that's pretty boring because there's no proof that anything is happening.
Well, now the weather is getting warmer. I think it's for real this time. I'd be surprised to see a cold front that gets us below freezing this late in the season. Many plants are taking the risk and are leafing out. But while that's pretty cool to observe in person, it's pretty dull in pictures unless one has a good camera that can take close-ups. And I do not.
So I was very happy and surprised this morning to see that my new Florida anise (Illicium floridanum) that I planted in September has a brand new flower. I had no idea how big the flower was going to be. It's actually quite tiny: 1.8" (4.5 cm).
As I write this, two more flowers have opened. It looks like the flowers might open at sundown. Perhaps moths pollinate them?
That was surprise number one today. I spent the day milling about outside since the weather was so nice after a week of rain. I decided the time was nigh to weed a ton of stickyweed (Galium aparine) in the hope of getting them out before they go to seed and thus lowering the population of the annual next year. Then, as I was tossing out some plant scraps in the compost pile, I peeked into the Chicken Yard and noticed my mayapple (Podophyllum peltatum) came back!
I bought and planted this last April. It disappeared in the summer, and I wasn't sure it'd come back. But there it is. How it got so big without my noticing it, I don't know. (No such luck with the Trillium foetidissimum I bought and planted at the same time.)
Since I had my camera out, I thought I'd go around the yard and take pictures of everything of some interest that I could write about. I was already in the Chicken Yard, so this one shows where I planted one of the red mulberries I ordered in December from Mail Order Natives. (I couldn't find anyone locally who grows them.)
It hasn't leafed out yet while the white mulberry just next to it has. (I'm keeping the exotic white around to study how it compares to the native reds. When I'm satisfied, I'll cut it down for firewood.) The Chicken Yard (under the live oak) is mostly sedge and lanceleaf coreopsis at this point. I'm not sure what I'm going to do here. I suppose I'll wait to see what comes up this year. Long-term, I expect the red mulberry to dominate this space. Short-term, no idea.
Here's the new strawberry bush (Euonymus americanus) that I planted in October with the live oak and palmettos behind it.
It has a lot of little flower buds, so I'm excited to see what happens in May onward with the flowers and fruit.
I have some thoughts about this next little area.
Lyreleaf sage is taking over the bricks where the picnic table is in the backyard. I haven't decided how to approach this yet. It's hard to rake and sweep right now; oak leaves collect and will inevitably turn into dirt, covering the bricks. I did take some seeds and sow them in other, better areas of the yard, so once it picks up somewhere else, I think I'll feel better about weedeating it back here so that I can have exposed bricks again. (What you don't see in this picture is that it's now starting to flower.)
Next up on the tour is the Stokes aster (Stokesia laevis) that I planted in late August.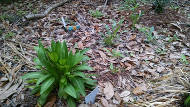 It's evergreen and has been in shade all winter because of the wood fence and low winter sun, but it's now getting full sun, as planned. Scattered around it are lanceleaf coreopsis and Rudbeckia. At top-right is a new bay tree. In the ICEE cup is a mountain mint of some sort. And one day, I'm hoping some muscadine seeds will sprout and grow up the wood fence behind all of this.
On to the front yard, here's the maypop (Passiflora incarnata) that I planted next to the crepe myrtle back in February last year.
I'm still not sure how to get it to climb the smooth bark of that tree. I'll try more jute twine or something. I kinda want to avoid a trellis, but I might resort to it. I'll see how it goes.
Being in the front yard, I can't ignore the large new beds I dug up in August and September. Here are two pictures of what it looks like these days.
The "hell strip" by the street is lush with exotic black medick (Medicago lupulina). On the plus side, it's a legume, so it's helping to add nitrogen to the soil (thanks to bacteria in its roots). However, it's all the hell over. I expect it'll die back once the summer heat hits, but in the meantime I imagine it's preventing some native seed from germinating. There's some tickseed and lanceleaf coreopsis here and there, but not much else (native-wise). I'm going to sow some little bluestem soon to help things out longer term. Also, I know the partridge pea is going to love it here in a couple months.
As for the bit on the house-side of the sidewalk, I'm going to sow some Turk's cap and cross my fingers. There's also a sparkleberry that I'm putting a lot of my trust in. Otherwise, I'm upset that all of my coralbean sprouts died in a really big freeze a couple months ago. Nothing but Rudbeckia and exotics here.
The last area is this space at the northwest corner of the house.
Two mayhaws and a sickly baldcypress. I sowed a bunch of seed in the hoed area in October: big bluestem, purple coneflower, partridge pea, and a bunch of unlabelled seeds. (Note to self: always write down what seeds are. You won't remember.) Things are sprouting, and I think it's going to be pretty interesting here. It gets super hot in the summer because the sun reflects off the wall. I hope the mayhaw can handle it.
Again, I left out the alley. Nothing to see back there, really. The coralbean is starting up again from the roots. (They die down in the freezes.) The exotic forsythia and native spicebush are flowering their yellow flowers. A lot of things are sprouting, and I hope they don't get herbicided by the neighbor's landscaper. I did talk to him, so I think it'll be ok this year.